Supply Chain News: Supply Management Effectiveness can Make or Break Bottom Line Results
Supply chain management professionals have long known that "supply management" is a fundamental skill companies must master to achieve both supply chain excellence and solid profitability. As procurement-related people and processes have seen a dramatic rise in visibility and sophistication over the last decade, it turns out that some even very large and respected companies are still mastering the discipline.
Case in point: construction equipment giant Caterpillar. The Peoria, IL-based company is a global icon, one of the most respected companies in the world. Throughout much of the 2000s, it enjoyed substantial sales growth, both in the US and overseas, as the globe saw a rapid construction boom.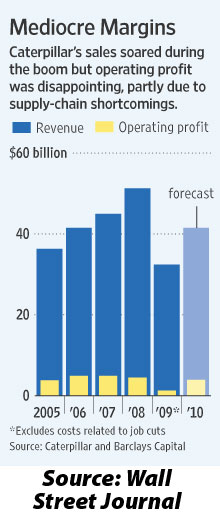 The problem? Profits didn't move upward anywhere near the pace of Caterpillar's revenue growth. As seen on the graphic nearby, produced by the Wall Street Journal, sales grew from about $37 billion in 2005 to $51 billion in 2008, yet profits stayed largely flat, staying right about $3.5 billion in 2006, 2007 and 2008 despite a 20% growth in revenue.
A key part of the problem: mediocre supply management.
As sales soared, the supply base for parts and other components couldn't keep up. As a result, Caterpillar had to pay premiums to get suppliers to produce additional volumes, and often resorted to expensive air freight or other forms of expedited logistics services.
In an interview with the Wall Street Journal, Caterpillar CEO Doug Oberhelman says the soaring procurement and logistics costs serviced as a "lightening bolt" that soon spurred a wide spread revamp in its approach to supply management.
One issue was that the company usually promoted from within. That often left it without an outside perspective and not enough fresh ideas. A talent gap was especially problematic in Caterpillar's busy international operations, where it lacked the time to well-train new managers.
The move to bring in outside supply management talent had started two years before, but in August of this year Caterpillar hire Frank Crespo as its new chief procurement officer, a titled he held previously at Honeywell.
Crespo is leading a charge to bring more "flexible manufacturing" capabilities to Caterpillar's supply base, so they can ramp up parts production more quickly based on Caterpillar's demand.  As the auto companies have done for years, Caterpillar will also work with suppliers so they can become more efficient , and Cat  will consider investing in a supplier if its needs financial help.